When you find out you're pregnant, a to-do list a million miles long starts to form. Some things are stressful (like financials), and some are fun (like picking out names). One of the bigger things on your list is planning out a nursery. Now, while there are plenty of things you could honestly skip for your nursery, one thing you shouldn't neglect to add to the room is a baby clothes hamper.
Sure, your kiddo won't be the one putting the items in the basket quite yet, but you'll want a place to store your little one's dirty clothes. Did you know babies go through an average of three to four outfits a day, or more? So, a baby clothes hamper only makes sense! Here are some of the best baby clothes baskets to consider when you're purchasing one for your nursery.
HIYAGON Rectangular Laundry Basket
If you are on the lookout for a smaller, neutral baby-laundry basket, the HIYAGON Rectangular Laundry Basket is the one for you! Featuring an adorable design of arrows and deer, it would make a great addition to any nursery without disrupting the color scheme.
You can toss baby's laundry, dirty crib sheets, or burp cloths into this basket. It is lined with a waterproof PE coating, so you won't have to worry about odors or stains. It has high-quality stitched reinforced handles that make it easy to transport this basket back and forth from the laundry room to the nursery without hurting your hands.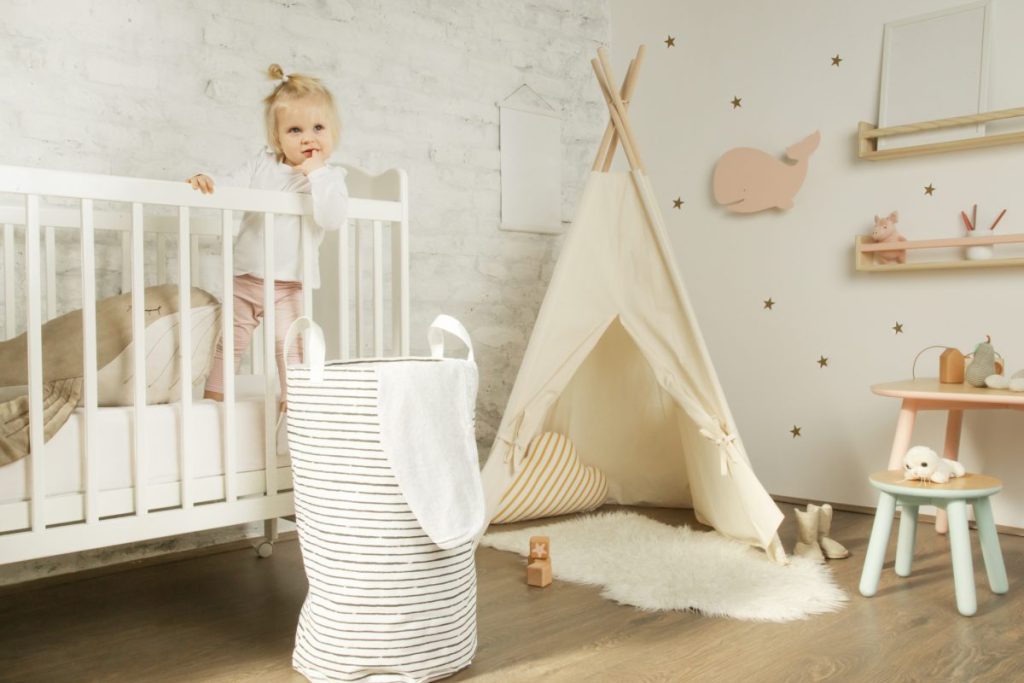 LANGYASHAN Storage Bin
The LANGYASHAN Storage Bin comes in quite a variety of designs, so you'll be sure to find one that compliments your nursery's decor well. Long leather handles make it easy to carry, and it's extremely lightweight, so going back and forth if it's full won't be hard on you. Perhaps the most attractive feature of this hamper is that it's entirely collapsible! So, when you don't plan on using it, just tuck it away somewhere out of sight.
Munchkin Laundry Hamper with Lid
From the beloved Munchkin company comes this functional and fashionable hamper with a lid that will definitely go with any kind of nursery decor. It has the capacity to handle even the largest loads of laundry but takes up minimal space. It features soft and padded handles for carrying around while being gentle on your hands. Its folding lid won't fall into the hamper with the dirty clothes when you toss something from across the room, and it'll keep the mess (and potential smells) from overtaking the room.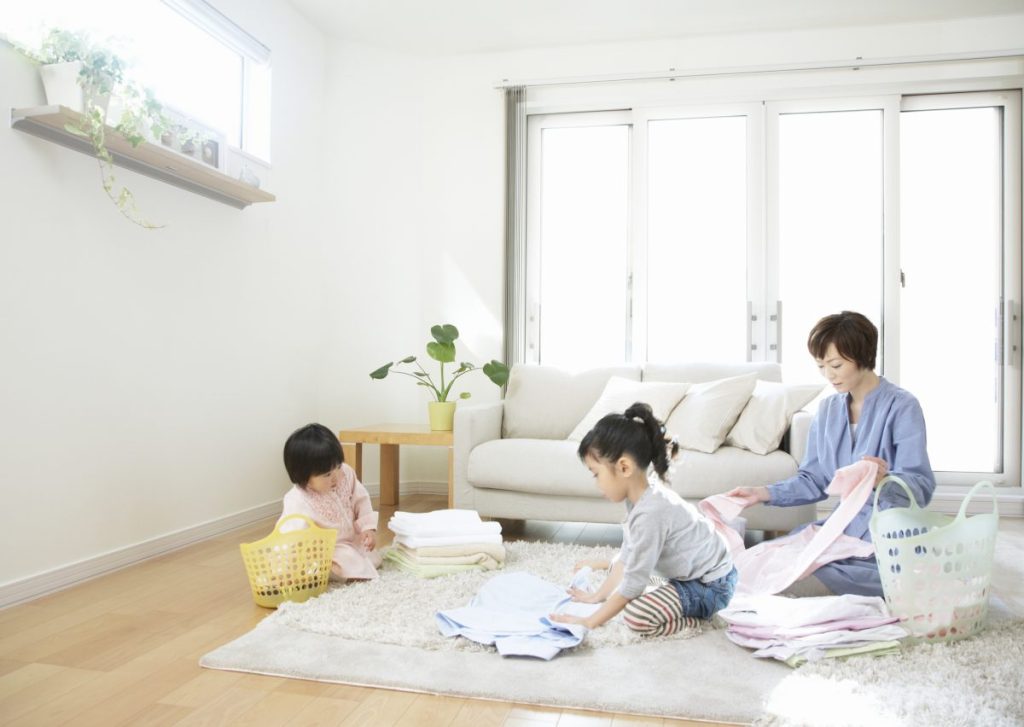 CherryNow Medium Cotton Rope Basket
Made up of entirely cotton rope, this laundry basket is medium in size, meaning that it'll take up to its fair share of baby laundry. The large handles attached to the basket make carrying it around a piece of cake. It's sturdy and will stand up all on its own, but it also can be collapsed and stored away for later. It's perfect for organizing your baby's laundry.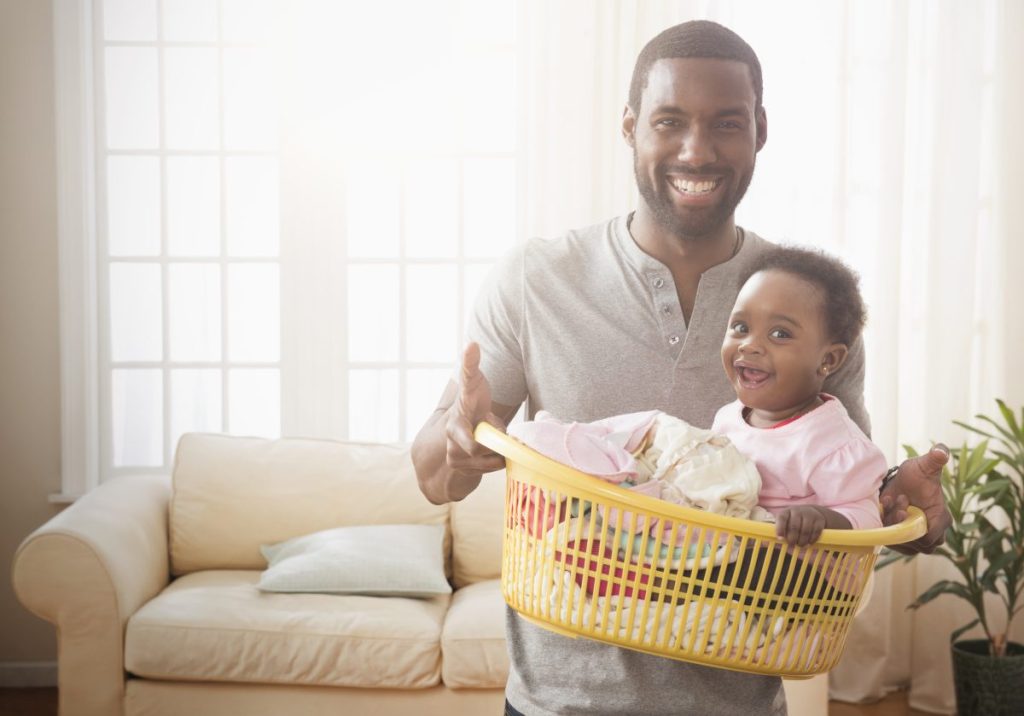 INough Baby Hamper
A sweet little option, the INough Baby Hamper features an adorable zoo animal design. It's lightweight and easy to carry. It's made with linen and waterproof EVA, which makes it very easy to clean – with just a quick wipe, you'll wash away any messes that this hamper may encounter. It's collapsible as well, so you're able to tuck it away when you don't need it. As baby gets older, this multi-purpose basket could also be used as a great storage bin for their toys or stuffed animals!
mDesign Extra Large Divided Laundry Hamper
This divided laundry hamper is a great choice because you have two sides to use. So, if you want to separate your child's onesies from their sleepers, you can easily do that. Perhaps you want to stick bedding and burp cloths in one and their clothes in another, this basket makes it much easier to divide things.
It comes in a variety of different colors and patterns to easily match your baby's nursery theme. It even folds up to a compact size so that you can tuck it away when you don't need it.
Any of these dirty clothes hampers would make a great addition to your child's nursery. A baby clothes hamper will also help with keeping the nursery a bit tidier. They all have equally wonderful patterns, colors, and features that make them special.
When setting up the room for baby, you'll find there will be items to keep off of your registry list and out of the baby's nursery. But we are here to tell you that one of these awesome baby clothes basket should definitely stay on your list.
Editors' Recommendations