Chocolate and candy are synonymous with Easter but they don't have to be. If you're trying to get away from that Easter morning sugar rush or simply want to add a little something different to your child's Easter basket this year, there are so many fun options that you may not have thought of that don't contain sugar.
While chocolate eggs may be the gold standard in your child's Easter basket there are lots of other fun ways you can celebrate the holy holiday. Here are 10 treats for your kids' Easter baskets if you're looking for something a bit out of the ordinary that your child will love just as much as a solid chocolate bunny.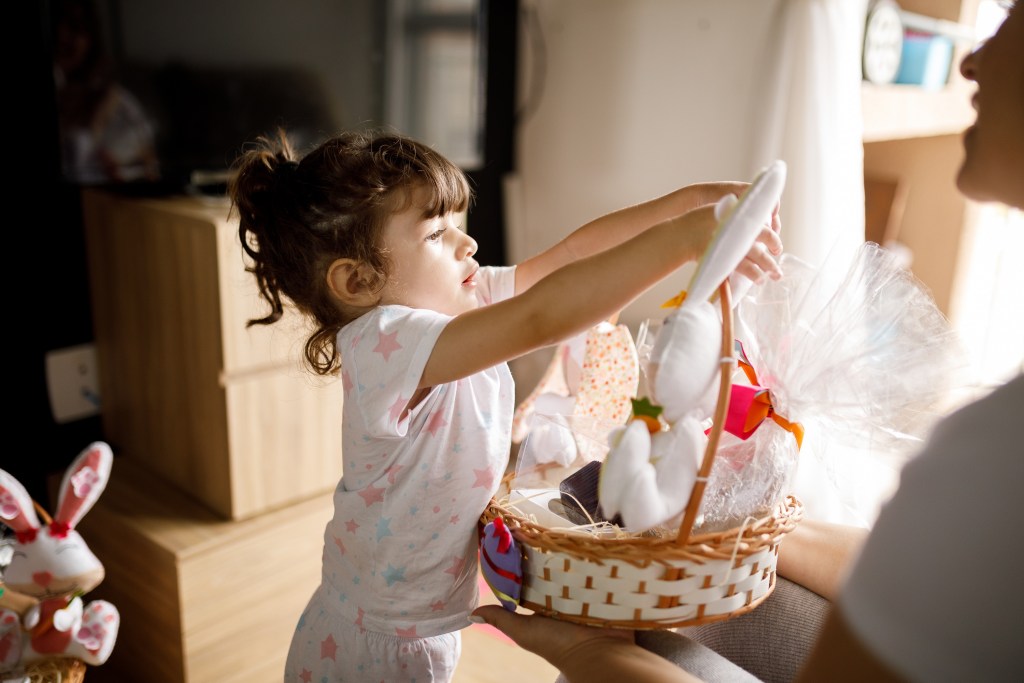 Get personal
Kids love getting gifts with their names on them which is why adding a personalized gift — whether it's a water bottle, blanket, or even a custom Easter basket — is sure to be a crowd-pleaser. Online shops like Personal Creations and Personalization mall offer a wide variety of personalized gifts your kids will love, at affordable prices. The best part is these gifts will be used long after their sugar rush wears off.
Easter face masks
Even though mask mandates have been lifted in most places, many still want their children, especially those under age five, to wear a mask in some circumstances. You can find a wide variety of cute Easter masks on Etsy that will brighten up your child's Easter basket.
Easter wish bracelet
We love this adorable customized Easter wish bracelet from Etsy seller Little Wishes. This customizable bracelet features a cord in the color of your choosing with a sweet star charm that your little one will love. They're so affordable that you can even get yourself one to match!
Fidget toys
Fidget toys have become super popular with kids. Not only do they allow kids to relax and de-stress, but adults love them too, especially as holidays can be stressful for all of us. You can find a wide variety of these push bubble popping toys on sites like Amazon that will make great Easter basket stuffers.
Giant Hoodies
Oversized hoodies are all the rage these days which is why Giant Hoodies are so popular! These comfortable hoodies come in a one-size-fits-all option for adults and kids (sizes 4 to 12) in a variety of colors and designs, including tie-dye. These hoodies are sure to be hit in your child's Easter basket and they ship free in the US.
Gift cards
Whether you're hosting an egg hunt for your extended family or just looking for something a bit different for your own kids' Easter baskets, gift cards are a great idea. You can purchase cards in a variety of denominations from local shops, fast food restaurants, or even big box stores and then enjoy a day shopping together. Older kids will love the independence of being able to shop with friends using their gift cards while giving younger kids a gift card to a local ice cream shop or toy store is a great way to spend time together on a different day. Amazon even offers their gift cards in cute Easter egg packaging.
Rothys
Rothys aren't just beautiful, well-made shoes, but they're sustainable too. Made from recycled plastic, Rothys shoes are also fully machine washable, which is perfect for kids of all ages. Not only do they offer a wide range of shoes and bags for adults but they have kid's designs and sizes too. If you're looking for a fun, durable, and eco-conscious pair of shoes for your child's Easter basket, check out Rothys.
Dash bunny mini-waffle maker
Kids love to help in the kitchen and this adorable mini-waffle maker by Dash makes waffles with a bunny shape in the middle! This is perfect for breakfast on Easter morning or anytime your little one is in the mood for waffles. They're single-serving size and easy to use which means your child can make their own or just help out in the kitchen. You can get a Dash bunny mini-waffle maker at stores like Target, Bed, Bath and Beyond, and Kohl's.
Bicycle
Ok, a bicycle isn't going to fit into an Easter basket and it may be more of a big-ticket item than you were looking for, but typically springtime is when kids tend to grow out of everything, so if you're going to need to buy your child a new bike, Easter may be the perfect time to get it. You can bypass other typical Easter basket sweets and replace them with a bike that your kid is going to need anyway!
Easter sheet masks
Perfect for that hard-to-buy-for teen in your life, sheet masks are super popular right now and they introduce your teen to skincare at an early age. Your teen will love these adorable Easter-themed sheet masks by Spa Life.
Choose any of these fun gift ideas to brighten up your child's Easter basket!
Editors' Recommendations