National parks hold some of the most majestic sights you'll ever see in your life. Nature can really take your breath away, in all of the best ways. These parks also offer countless opportunities for families to bond and kids to discover their love of nature.
One of the most popular parks, and for good reason, is Yosemite National Park. It's an especially good choice if you live in the state and can make it a day trip in California.
From mountains and lakes to the ever-famous giant sequoias, Yosemite can help you lose yourself to the magic of the wilderness. If bringing your children to enjoy that sounds like the best idea, but also a bit overwhelming, we are here to help. Here's a condensed rundown on how to experience Yosemite with children.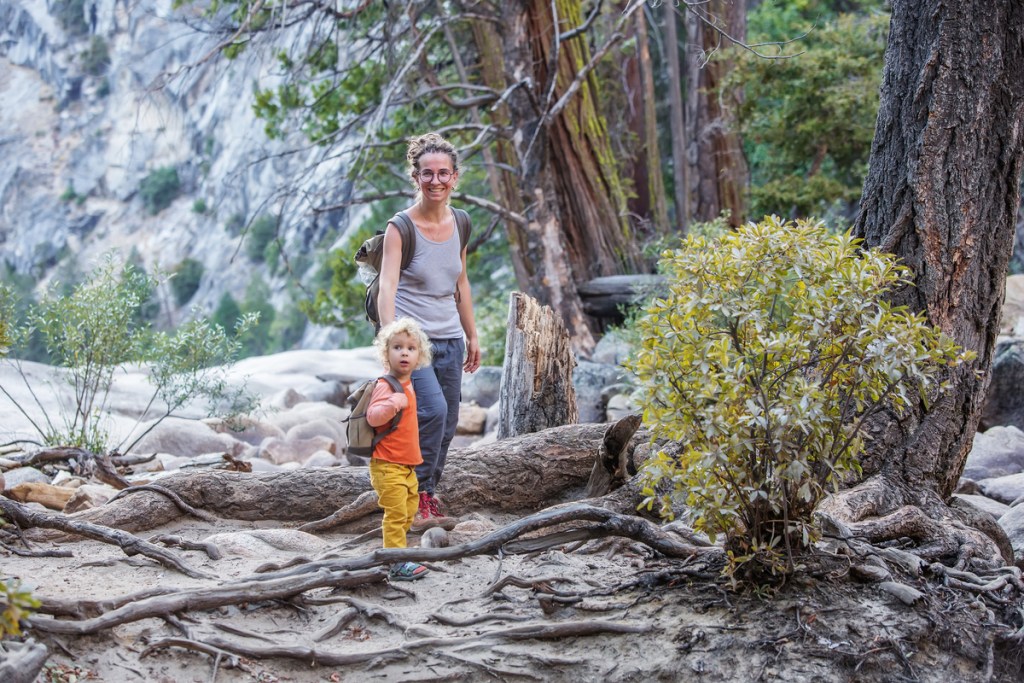 What to do in Yosemite with kids
Bringing the kids along doesn't mean you can't experience a bit of everything that Yosemite has to offer. You just have to do a little more research before you go to know where to take the kids. The rangers are there to help, and the visitor's center will be a great friend to you.
Stay on the easy hikes
There are plenty of trails to take the kids on. There are even some that are nicely paved so you can pop that cranky kid in the stroller when they refuse to walk one step further. Take the free shuttle to see more of the park if those smaller feet start slowing down.
Bike the trails
You can easily ride bikes along miles of trails. Let the kids ride their own bike, or if you know you have a kiddo that will only ride the first few minutes and then say their feet are tired, you can get a bike with an attached kiddie trailer.
Stand under the sequoias
How could you not get a picture of your little ones next to the biggest trees in the whole world? And what child isn't going to strain their neck back as far as they can to try to see the top of one? Make sure to introduce your kids to the California Tunnel, Wawona Tunnel, Grizzly Giant, Three Graces, and Fallen Monarch Trees.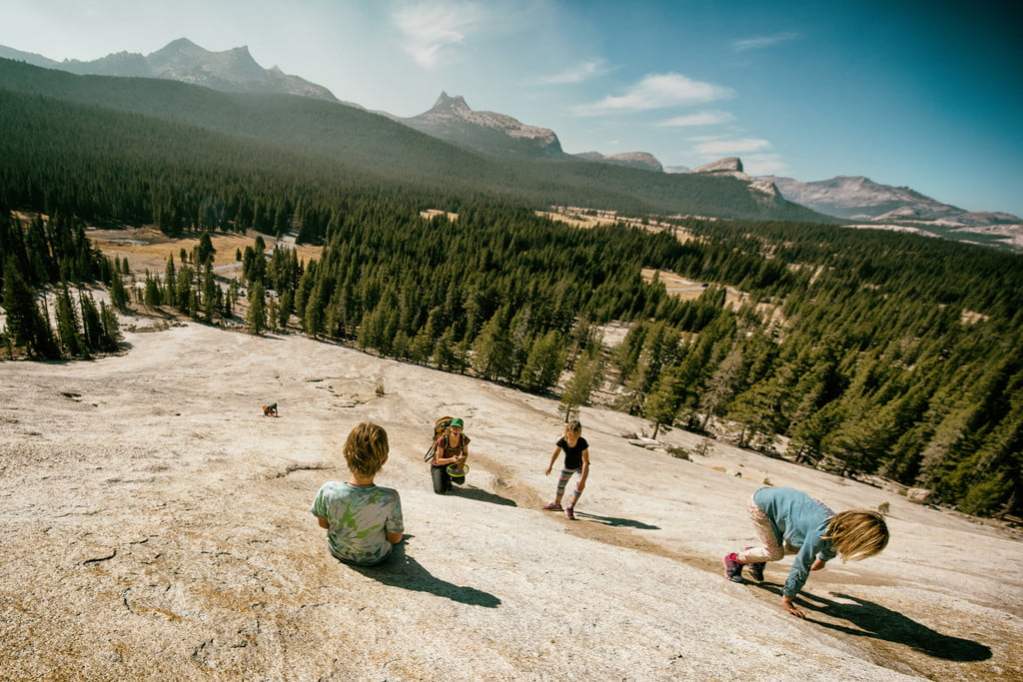 Yosemite family activities
If your family likes to walk, swim, or learn about the history of where you are, you can find all of that throughout Yosemite Park. We rounded up the easiest things to do with the whole family that cover everyone's interests.
Take a tour
You can always do a self-guided version, but it's worth it to pay the money and have a professional lead the way. If your family loves to learn about the places they visit, this is a must-do.
See all of the waterfalls
Or, at least try to see as many waterfalls as you can. There are plenty to see, so map out which ones are easier walks for the kids. Everyone, of every age, loves looking at a gorgeous waterfall. And the kids will get a thrill out of being splashed by one.
Plenty of swimming spots
You'll want to ask at the visitor's center about river conditions before you try stepping into any water. There are numerous places where everyone can enjoy a little cooling off. There are even some parts of the river you can raft along, so inquire about that at the visitor's center as well.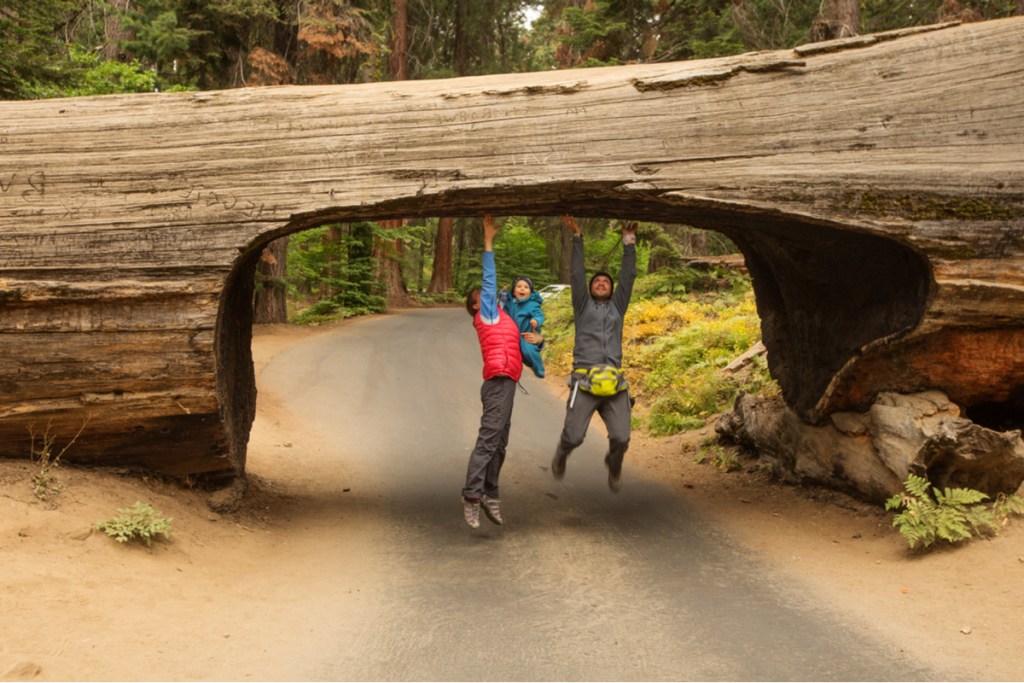 5 things you have to do with the kids in Yosemite
Junior Ranger Program
If you have kids, they have to become Junior Rangers. They go on adventures and earn an official badge that they can show off to their friends back at home.
Yosemite Museum
Do your kids love to put their hands on everything — what kid doesn't? Then you have to take them to the museum. There are whole touchable exhibits that you can let your kids loose on. Your children can also find that perfect souvenir from the gift shop to bring home.
Pioneer Village
If your kids like history, stroll over to the Pioneer Village section. Your children can explore beautiful historic homes and stagecoaches. Everyone will love walking through the amazing covered bridge to get there, and that might even be the best part.
The Yosemite Theater
With all of that walking, you wouldn't mind sitting down for a minute, right? Then bring the whole family to the theater to catch a show. Even better is that you get a discount on any children's tickets.
Yosemite Art and Education Center
Letting your children get messy is the recipe for them to have a blast. Just make sure you have your wipes packed and let them go crazy making the perfect art pieces to remember the trip by.
Kids of any age will absolutely love all the adventures your family will have at Yosemite National Park. Because every season brings new things to explore and do, you can make visiting Yosemite a regular occurrence. With so many experiences that await and things to do in Yosemite with kids, you'll have countless memories to make. So, pack up enough snacks for the drive and let the incredible beauty of Yosemite turn your children into mini explorers.
Editors' Recommendations