Keeping dinnertime fresh can sometimes feel like a full-time job in itself, especially with kids in the mix. Children are notoriously picky when it comes to food and there are often only certain dishes they will eat. Getting kids to try new foods can be even more difficult. If you're looking for new recipes to prevent dinnertime from getting boring, you're going to love dishing out chicken Alfredo pasta. Chicken and pasta are two dishes children typically eat. Combining the two with a tasty and easy Alfredo sauce puts a delicious twist on chicken and pasta the whole family will most certainly enjoy. So, let's get cooking.
What is Alfredo sauce made of?
Much like marinara, Alfredo sauce is a classic. This traditional white sauce is made using butter, cream, and Parmesan cheese. Making an Alfredo sauce from scratch isn't difficult. As a matter of fact, whipping up an Alfredo sauce is actually pretty quick. Allrecipes has an Alfredo sauce recipe that takes about ten minutes to prep and ten minutes to cook.
Is Alfredo and carbonara the same?
Alfredo and carbonara are both white sauces. The two sauces originated in Italy mostly because people were tired of pasta with typical red sauces. Alfredo di Lelio created the sauce that bears his name in his Italian restaurant. He made fettuccine Alfredo for his wife who had difficulty eating pasta in marinara while she was pregnant. Carbonara was also invented in Italy, but has a less concrete backstory. Some say carbonara comes from coal workers while others point toward World War II. The main difference between the two white sauces is the ingredients. Alfredo may have some additions like garlic and parsley, depending on the recipe, but the base of butter, cream, and Parmesan is always the same. Carbonara, on the other hand, is made from guanciale, eggs, and Pecorino Romano cheese. Guanciale is an Italian cured meat that comes from pork jowls. Some people may confuse guanciale with bacon. Unlike bacon, guanciale is just used for cooking and is the main ingredient for carbonara. It's the guanciale that gives the carbonara sauce its flavor, which is quite different from the creamy buttery taste of Alfredo sauce.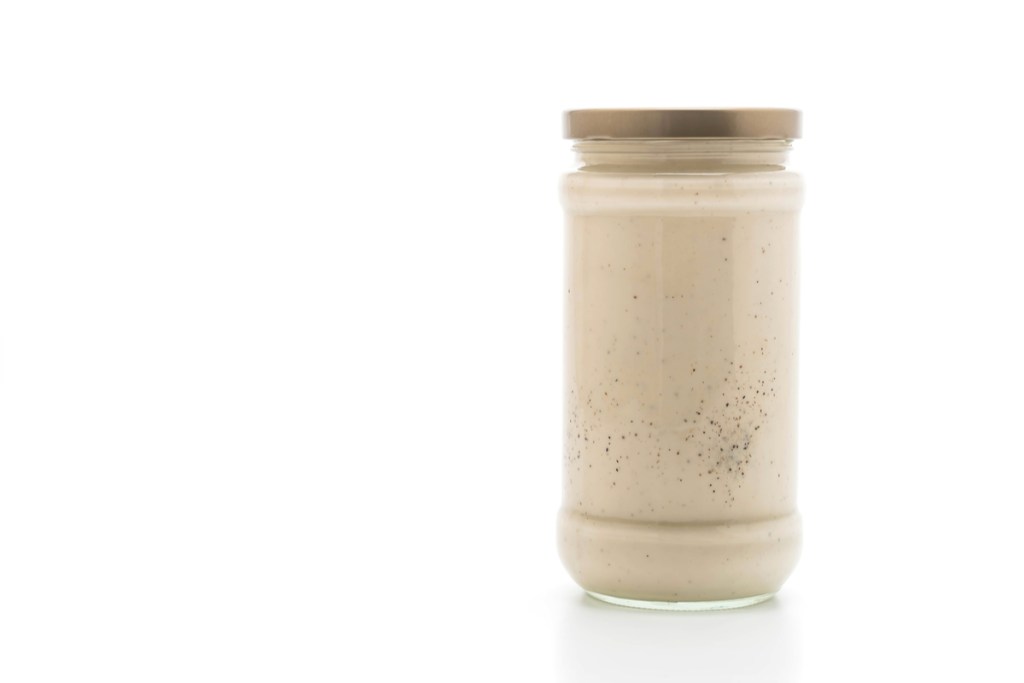 How do you use Alfredo sauce in a jar?
While making your own Alfredo sauce from scratch is simple, busy parents don't always have time for that on those crazy weeknights. Thankfully, Alfredo sauce does come in a jar. Not everyone has the time to make sauces from scratch, especially when trying to balance busy work and home schedules. Using a jar sauce makes the cooking time for chicken Alfredo pasta even shorter. The Food Network recently ranked the top jarred Alfredo sauces. Some you've probably seen on the shelves at your local supermarket and thought about trying. According to the Food Network, Classico's Alfredo sauce is a safe bet when introducing kids to a dish like chicken Alfredo pasta.
When it comes to using a jarred sauce, use it just like you would a homemade sauce. Heat the sauce separately and then add it to the pan with the chicken and pasta. Allow the Alfredo sauce to simmer for a few moments before removing it from heat and serving. Letting the jarred Alfredo sauce heat up first will add more flavor to the meal. Many people though do pour the sauce straight from the jar over the chicken and pasta without preheating.
How do you add flavor to Alfredo pasta?
The three main ingredients in Alfredo sauce are butter, cream, and Parmesan cheese. If you're looking to add a bit more flavor to the Alfredo sauce, that's easy to do. Kids may certainly prefer a more bland Alfredo, but that doesn't mean you can't spice it up a bit. Most traditional Alfredo sauce recipes include pepper. Using freshly ground pepper from peppercorns is one way to enhance the Alfredo sauce's flavor. Garlic is another option. The addition of either minced garlic or garlic powder is a savory one for an Alfredo sauce. Parsley is often used in Alfredo sauce. Adding parsley along with oregano and sage is a tasty way to give homemade or jarred Alfredo sauce an infusion of flavor. Of course, you can never go wrong with more cheese. Parmesan is the main cheese in Alfredo sauce, but there are recipes that use Romano too.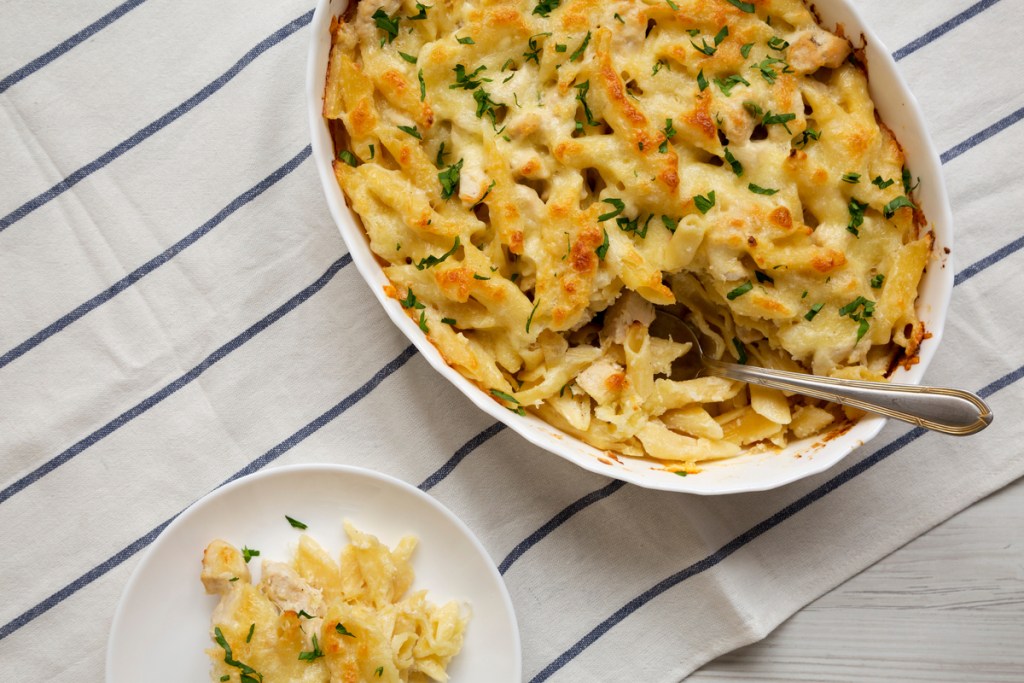 Chicken Alfredo pasta recipes kids will enjoy
Now that we know what an Alfredo sauce is and how to make it, you can easily add it to your kids' favorite chicken pasta dish. Otherwise, here are some chicken Alfredo pasta recipes you can try. Remember, you can always substitute a jarred sauce for a homemade one if you're pressed for time.
Broccoli and chicken Alfredo pasta: This is a great recipe from Super Healthy Kids if your kiddos don't mind you sneaking in the veggies.
One-pan chicken Alfredo: It's always a plus when you can make dinner with just one pan. When you're short on time, try this one-pan recipe from Kids Spot.
Easy chicken Alfredo penne: Tasty serves up this quick chicken Alfredo pasta recipe.
Bringing new recipes to the table keeps dinner from getting mundane, but with kids new is always hard. With chicken Alfredo pasta, you get two dishes kids already like in one. The only change is the Alfredo sauce, which is creamy and cheesy enough to become a kid favorite.
Editors' Recommendations