Baby's first birthday is such an exciting occasion. It's also usually the first time baby actually gets to eat cake. Celebrating with a smash cake baby can dig into with their hands is a social media post that doesn't get old. Never heard of a smash cake for baby's first birthday? A smash cake is a small cake about 4 inches in diameter that's just for baby to enjoy with their hands to celebrate a first birthday.
Smash cakes actually have a long history and date all the way back to the ancient Egyptians. The popularity of the smash cake recipe has ebbed and flowed, but today smash cakes are all the rage, and if you think about it, it's a perfect idea for 1-year-olds because they can dig right in and eat it with their hands.
Smash cakes should be baby-sized desserts with just the right amount of icing. Choose icing colors with care because colors like red or blue can leave behind a mark that doesn't wipe away easily. A smash cake can be a smaller version of the party cake or a stand-alone one with its own adorable design. If you're looking for baby smash cake recipes to make your baby's first birthday even sweeter, we have cute cake ideas to get you baking.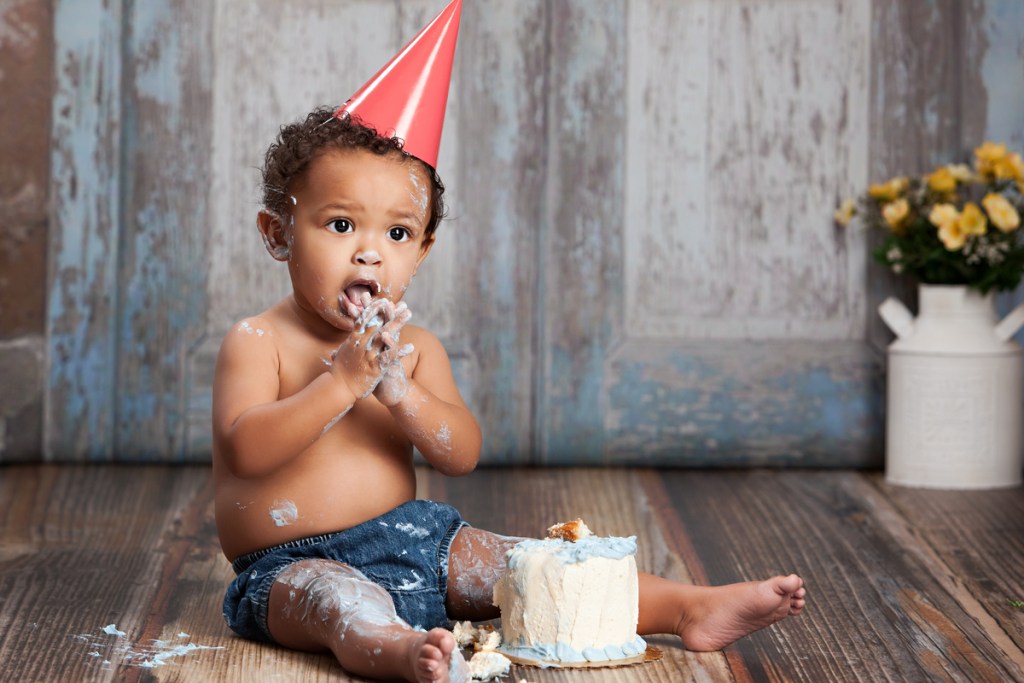 Smash cake pans
Since a smash cake is a fraction of the size of a typical round cake, it's best to use a pan designed for smash cakes. A smash cake pan is 4 inches in diameter. These 4-inch cake pans are usually sold in groups of four and can definitely be used for other desserts. You can also make a smash cake with a 6-inch cake pan. When using a 6-inch pan, just cut away 2 inches.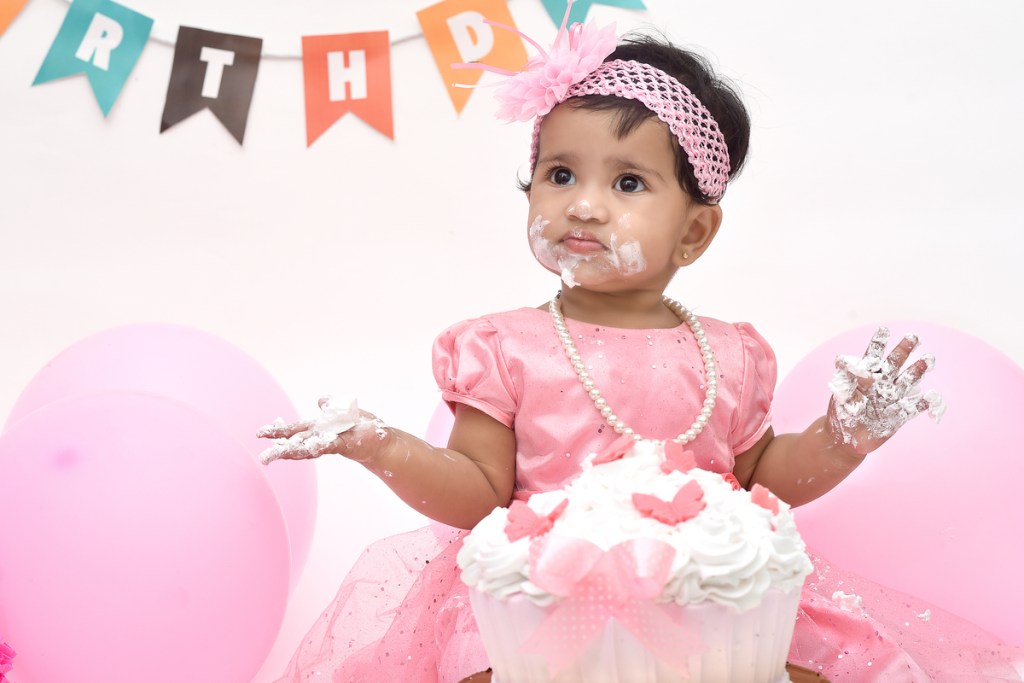 What kind of smash cake recipe should you make?
Birthday parties for 1-year-olds are usually the first time babies actually get to dig into a cake. So, you will want to keep the recipe simple. An ordinary vanilla sponge cake is ideal for a baby's smash cake. It's light and fluffy enough to crumble in baby's hands. Most pediatricians say chocolate is OK when children turn 1 in moderation, and first birthdays are special. If you have your heart set on a chocolate smash cake recipe, give it a go.
Boxed or from scratch?
If you need a quick, no-fuss smash cake recipe for your baby's first birthday, there isn't anything wrong with using a boxed cake mix in vanilla or chocolate. It's an all-in-one recipe that will yield a yummy cake your baby will enjoy.
There's also less stress and time involved. If you prefer, it's not too difficult to make a smash cake from scratch. The key is to use cake flour instead of regular flour. Cake flour will give you a fluffier cake. If you decide on scratch, it's a good idea to make a trial smash cake before the big day. All-purpose flour is fine, too, but the cake will be denser.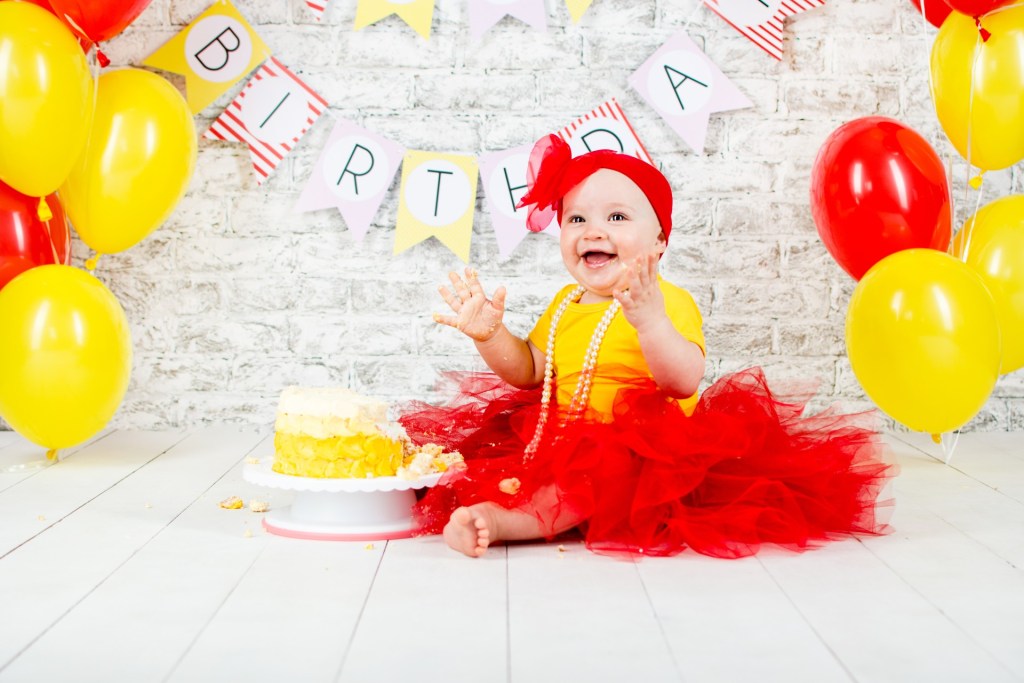 Decide on a smash cake recipe
If you're going to bake your baby's smash cake from scratch, you need to pick chocolate or vanilla. Once you've chosen, collect the ingredients.
Step 1: If you're baking a vanilla smash cake, you will need to collect the following ingredients:
3 cups of cake flour (all-purpose is fine, too)
3 1/2 teaspoons of baking powder
4 eggs
2 cups of granulated sugar
1 cup of unsalted butter (softened)
1 tablespoon of vanilla extract
1 1/2 cups of milk
Step 2: If you're baking a chocolate smash cake, you will need to collect the following ingredients:
6 1/2 tablespoons of cake flour (all-purpose is fine, too)
6 tablespoons of cocoa powder
3 tablespoons of granulated sugar
1 tablespoon of baking powder
2 tablespoons of vegetable oil
2 1/4 cups of milk
4 eggs
3/4 teaspoon of salt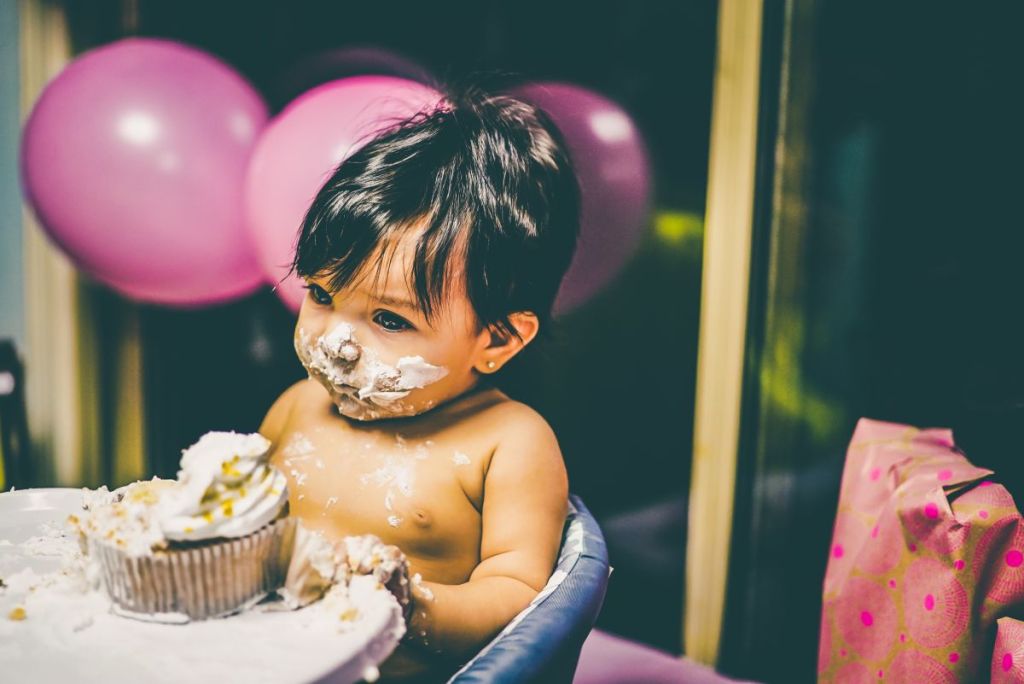 Smash cake recipe directions for vanilla or chocolate
Now, that you have decided on a cake flavor and have your ingredients, let's get baking.
Step 1: Preheat oven to 350 degrees Fahrenheit.
Step 2: Grease and flour 4-inch or 6-inch cake pans. You will have enough batter for more than one 4-inch cake. You can also use the extra batter for cupcakes.
Step 3: Mix flour and baking soda together in a large bowl.
Step 4: Combine softened butter and sugar using an electric mixer. Then add in eggs and vanilla.
Step 5: Slowly add the dry ingredients to the mixer.
Step 6: Add milk into the mixer.
Step 7: Blend until combined.
Step 8: Pour into pans.
Step 9: Bake for 30 to 35 minutes or until a toothpick comes out clean.
Step 10: Apply the icing when completely cooled.
Step 11: For layers, cut two 4-inch smash cakes in half through the middle and put the icing in the middle of each layer.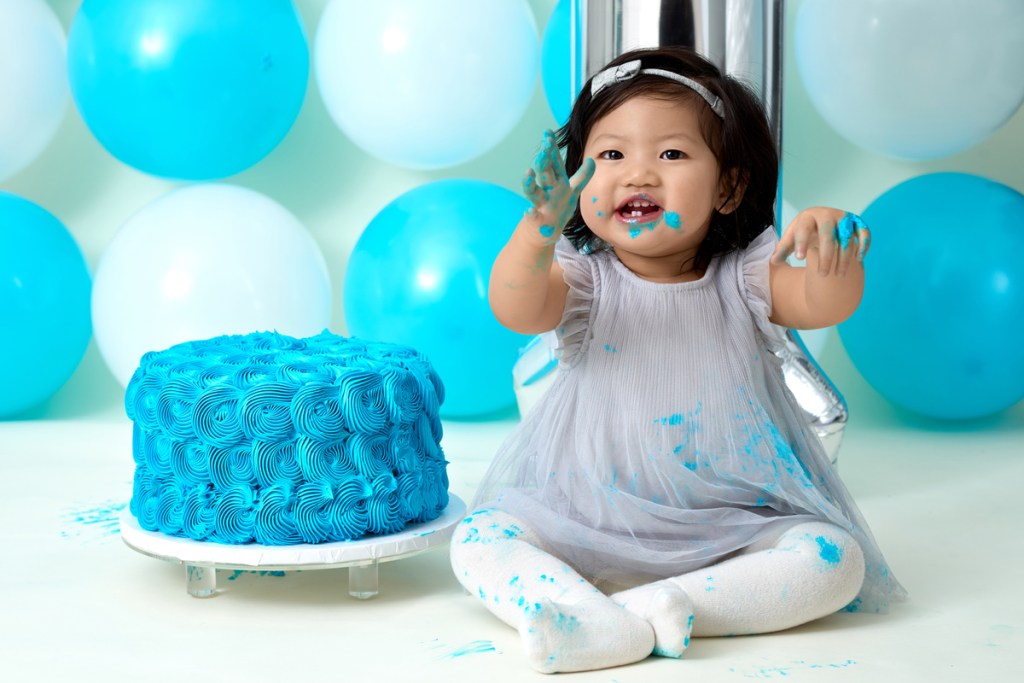 Icing on the cake
The best part of any cake is the icing, and smash cakes aren't any different. Top off your little one's smash cake with the icing color of your choice. Ready-made icing is quick and tastes good. You can have it match the party cake or be different and have it not coordinate with the theme.
Simple is best for babies, so just icing the cake with a touch of sprinkles and one candle will be enough. If you do add decorations, remember to take them off before you let baby dig in.
Step 1: While your smash cake is cooling, gather together the following ingredients to make the icing from scratch.
1 cup of unsalted butter (softened)
2 cups of powdered sugar
1 teaspoon of vanilla extract
2 tablespoons of milk
Step 2: Place the dry ingredients into a small mixing bowl.
Step 3: Blend the dry ingredients together with a spoon.
Step 4: Slowly stir in the softened butter and milk. Be careful not to over mix.
Step 5: Add additional powdered sugar if the icing is too runny, or milk if it's too thick.
Step 6: Decorate your smash cake with your icing and top off with sprinkles.
Smash cakes are a cute tradition that has really taken hold. It's definitely a fun addition to baby's first birthday celebration. Remember the goal of a smash cake is to have a sweet baby ultimately covered in cake and frosting for those adorable photographs.
So, don't stress over making a gorgeous cake because your little one is going to dive in fingers first. A simple smash cake with icing and sprinkles makes for a yummy introduction to desserts for baby. Don't forget the camera and have a smashing first-birthday celebration for your one-year-old.
Editors' Recommendations