Valentine's Day dates all the way back to the 17th century and more than 140 million people will head to the store to buy cards in honor of February 14. Sometimes, though, a special gift from the heart makes a bigger impact. This year, get the day started with Valentine's Day pancakes. A noteworthy Valentine's Day breakfast is a wonderful way to say I love you. So, let's get ready to make a batch of Valentine's Day pancakes in the shape of hearts.
If you've never made pancakes from scratch, don't worry. This recipe is quick and easy. Make the batter the night before and leave it in the refrigerator. It's a perfect pick for Valentine's Day or anytime the kiddos want pancakes for breakfast.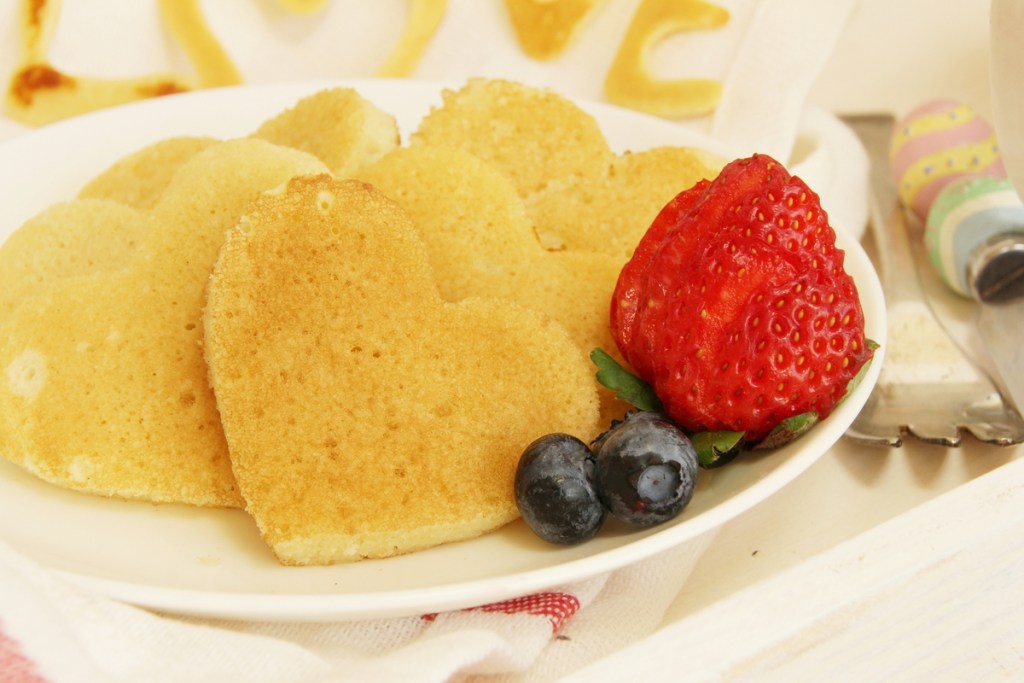 How to make pancake batter from scratch
Making your own pancake batter is definitely healthier than a pre-made boxed mix. You can also adjust this recipe to suit your tastes, such as substituting wheat flour for regular flour. Whole milk or other milk options like almond or oat milk work well. Vegan butter can also be used as a substitution.
Step 1: Gather ingredients together.
Step 2: Melt 4 tablespoons of butter.
Step 3: Crack two eggs into a small bowl and mix them together.
Step 4: In a large mixing bowl, add together the following dry ingredients:
2 cups of flour
4 teaspoons of baking powder
1 teaspoon of salt
1 teaspoon of sugar (you can add more sugar if you'd like or leave it out altogether)
Step 5: Mix together the dry ingredients.
Step 6: Slowly pour in 1 cup of milk and gently stir together.
Step 7: Add in melted butter and continue stirring.
Step 8: Stir in egg mixture.
Step 9: Once you add all the wet ingredients, continue to stir the batter until large lumps break apart.
Step 10: If you're making the batter the night before, place aluminum foil or plastic wrap over the batter and place the bowl in the refrigerator.
How to make heart-shaped pancakes
Now that the batter is mixed, it's time to warm up the griddle or pancake pan on low or medium heat to start making those delicious heart-shaped pancakes. When it comes to creating heart-shaped pancakes, there are two options: an icing bag or a heart-shaped cookie cutter.
Step 1: Take an icing bag and fill it with pancake batter.
Step 2: Tie off the top.
Step 3: Use the icing bag to pipe heart shapes on the pancake pan or griddle and then fill in with batter from the bowl.
Step 4: If using a heart-shaped cookie cutter, first spray the inside of the cookie cutter with cooking spray.
Step 5: Pour about a 1/4 cup of batter into the heart-shaped cookie cutter.
Step 6: Allow the pancake to cook for about a minute before removing the cookie cutter.
Step 7: Continue making your heart-shaped pancakes until the batter runs out. If you do have leftover batter, it'll keep in the refrigerator for another day. Be sure to use it up for a quick post-Valentine's Day breakfast.
When to flip the heart-shaped pancakes
Typically, pancakes are ready to flip when the batter begins to bubble. Allow the underside to brown lightly before placing it on a warming plate. Serve pancakes plain with syrup on the side or add toppings like strawberries, blueberries, or powdered sugar.
Whether you're making a special Valentine's Day breakfast for your partner or for the whole family, heart-shaped pancakes are a perfect pick for the holiday. They're easy to make and get Valentine's Day started on a high note. You can use this tasty and simple pancake recipe to make regular pancakes or any holiday shape. All you need is an icing bag or the appropriate cookie cutter to get those creative juices cooking.
Editors' Recommendations