Fourth of July parties are a summer mainstay. Backyard barbecues and picnics are a super fun way to celebrate Independence Day. The great thing about Fourth of July parties with your family is that you don't necessarily have to celebrate on July 4. The fun usually lasts the entire weekend, even if the Fourth of July doesn't fall on a Saturday or Sunday. Inviting family over with all the cousins playing, laughing and eating together is a really great way to spend the Fourth of July. Don't worry. Party planning can be stressful, but we have some great Fourth of July family party ideas to make it easy to pull together.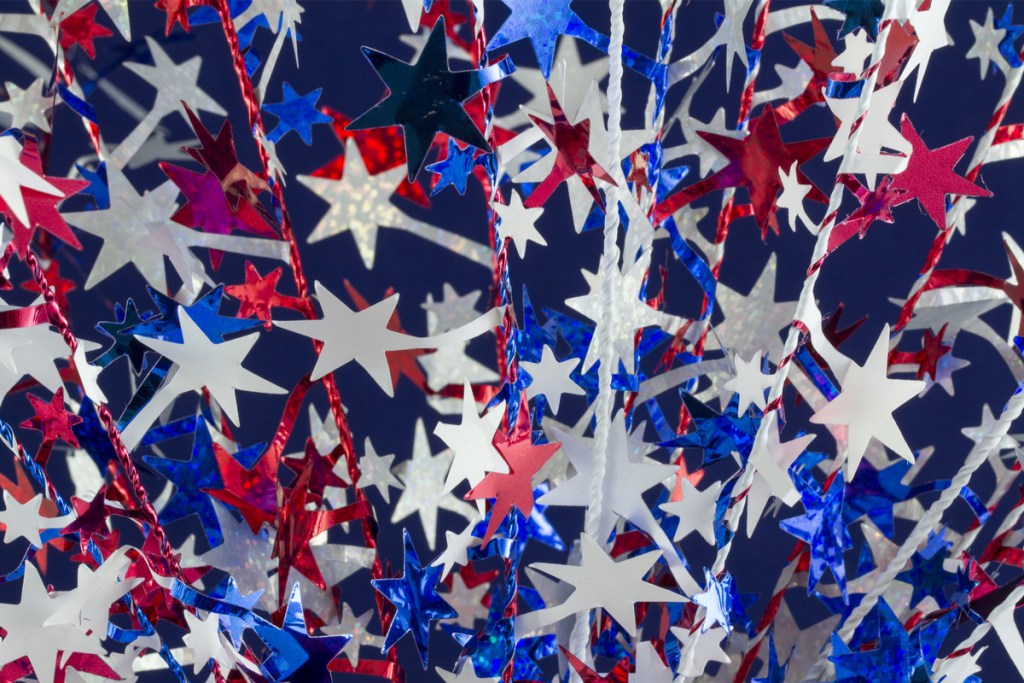 Fourth of July Family Party Ideas
Invites
Fourth of July is always a busy time for picnics, barbecues, 5K races, parades and more. Get your invites out early to make sure the majority of your family can attend. Evites are an easy and inexpensive way to invite the family, or you can go the conventional way with mail invitations. If most of your family is local, invite everyone via a group text. Remember to ask people to RSVP by a reasonable date to ensure you have enough food and beverages and seating for all attendees.
Food
Planning a menu for your entire family can be a bit daunting. A low-stress way to stack the buffet table for the family Fourth of July picnic is to have each family member bring a dish. As the host family, you can take care of grilling the hot dogs, hamburgers and chicken. Ask others to bring the coleslaw, potato salad, garden salad, chips and other foods that make a Fourth of July barbecue delicious. Be sure to write down what each family member is bringing, and when people ask what should they bring, don't be shy about suggesting what you need. If any guests are vegetarian or vegan, it's a nice idea to have some plant-based foods on the menu, too. Veggie and black bean burgers are easy to find in most supermarkets and taste great on the grill.
Beverages
Be sure to have a mixture of beverages on hand and a way to keep them cool. Large coolers set up with ice are ideal for keeping beverages chilled on a hot day. Like food, you can ask guests to bring water, juice boxes or adult-only drinks for the Fourth of July celebration. If you're supplying the beverages, buy in bulk to save money.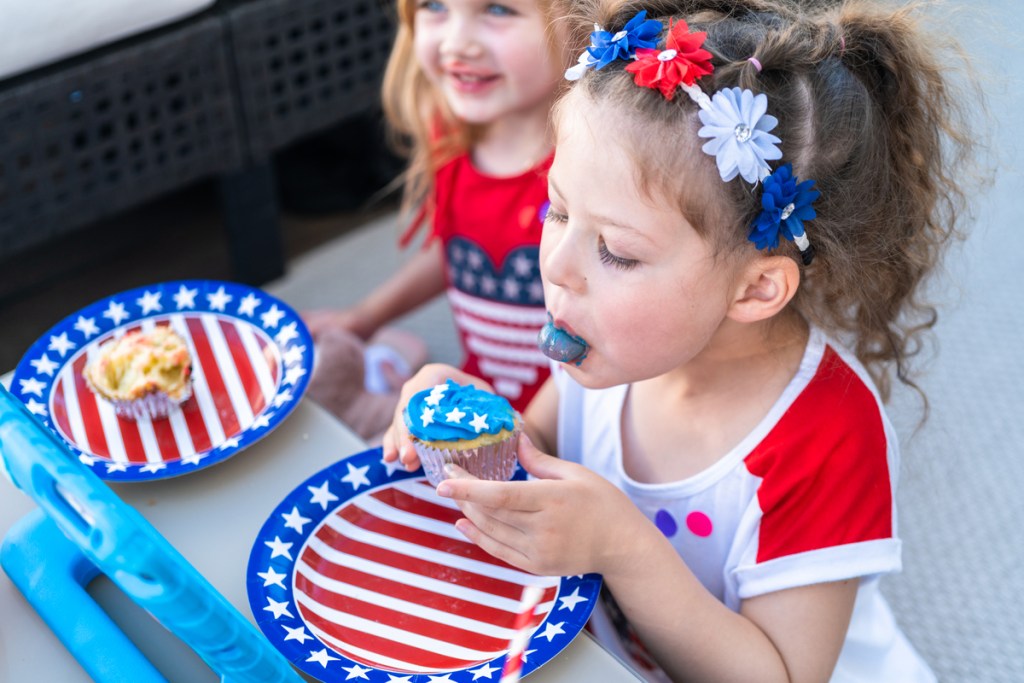 Desserts
You can't have a Fourth of July picnic or barbecue without yummy desserts. Red, white and blue cupcakes are an inviting way to cap off the day. Red fruits like strawberries and blueberries with whipped cream on top make a tasty dessert or set up an ice cream bar with red, white and blue toppings in honor of Independence Day.
Seating
While a Fourth of July party isn't formal like Thanksgiving dinner, you do want to make sure you have enough tables and chairs set up for people to comfortably sit down and enjoy their food. If you don't have enough, you can always ask a relative or neighbor to borrow picnic tables and lawn chairs. Don't wait until the day before the party to check to make sure the picnic table is big enough for everyone. You'll also want to leave time to clean off backyard furniture and ensure there's enough seating. The morning of or the day before won't leave you enough time and will only stress you out on party day.
Pool
If you have a pool, it's important to designate a couple of adults to watch the water at all times. Another way to keep everyone safe in the water is to hire a certified lifeguard for the party.
Entertainment
Pools are perfect for entertaining family on the Fourth of July, but not everyone has a backyard pool. Have activities like cornhole, ring toss, Kan Jam, volleyball or other backyard games available for guests to play with. Board games are a great idea, too. Even if you have a pool, still have other activities available, especially if there are kids of different ages. Not everyone will want to go in the water.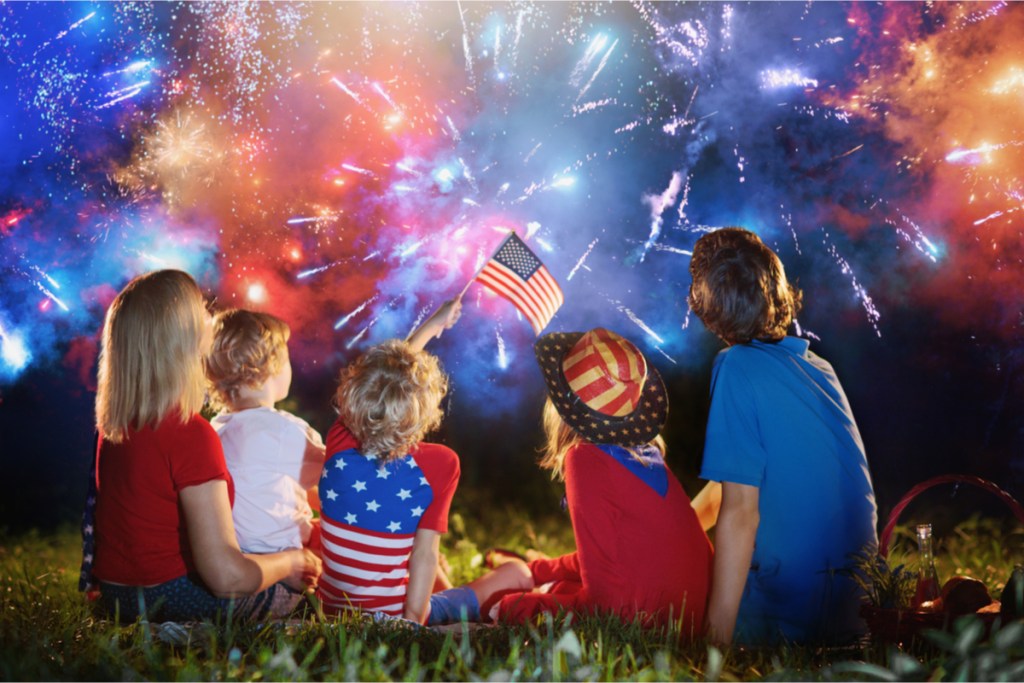 Fireworks
Each state has different laws regarding fireworks. Every summer, the news is filled with tragic stories of adults and kids being injured from backyard fireworks. It's best to leave the fireworks to the professionals for your Fourth of July party. Most community Fourth of July displays are on July 4 or in the days leading up to the holiday. Check to see when the fireworks are in your community and plan your party around them so everyone can still attend.
Decorations
Hosting the party, planning, setting up and providing entertainment is a lot of work. Don't make yourself crazy or spend a great deal on decorations. Head online or to your local dollar store to buy inexpensive red, white and blue decorations, table coverings and tableware. Here's where you can enlist the help of kids and teens. Kids can make red, white and blue beaded garlands and other simple Fourth of July crafts for festive backyard decorations.
Hosting a Fourth of July party for the family is a fun way to celebrate Independence Day. Sure, it's a lot of work to plan a party, but our helpful guide can assist you in organizing all the essential parts of an amazing Fourth of July celebration.
Editors' Recommendations